Rangamati Water Front Picnic Spot & Resort
Location         : Shinabohar, Sokhipur, Gazipur
Venue Capacity     : 4000 Peoples
Land Capacity     : 100 Biggas
Distance        : Dhaka to Sokhipur 50 k.m
Facility    :     Swimming Pool
    Nice 10 Cottages
    V.I.P Cottages
Suite Rooms
Conference Hall
Kids Play Zone
Restaurant
2 Big Sports Filed
Gymnasium
Able Able Car parking
100 Peoples Dining Capacity
Rangamati Waterfront Resort is a tranquil and unique resort in Gazipore 45 k.m away from Dhaka City. It allows you to unwind yourself in serene luxury, comfort and sophistication. With its own picnic spot and an endless horizon of the limitless sky, where moonlight illuminates the night, you will find your get away to a memorable lifetime experience.
The complex consists of one-of-a-kind amphitheater, surrounded by greenery of the forest and a number of picnic spots to cater to private, social and corporate needs. The entire tranquil area of the resort fulfills the senses with a unique blend of well-being and relaxation.
Guests will be treated with extravagant indulgence beyond conventional luxury with unmatched service standards and hospitality. The entrance is just the beginning to an experience that exends beyond realms of a luxury resort.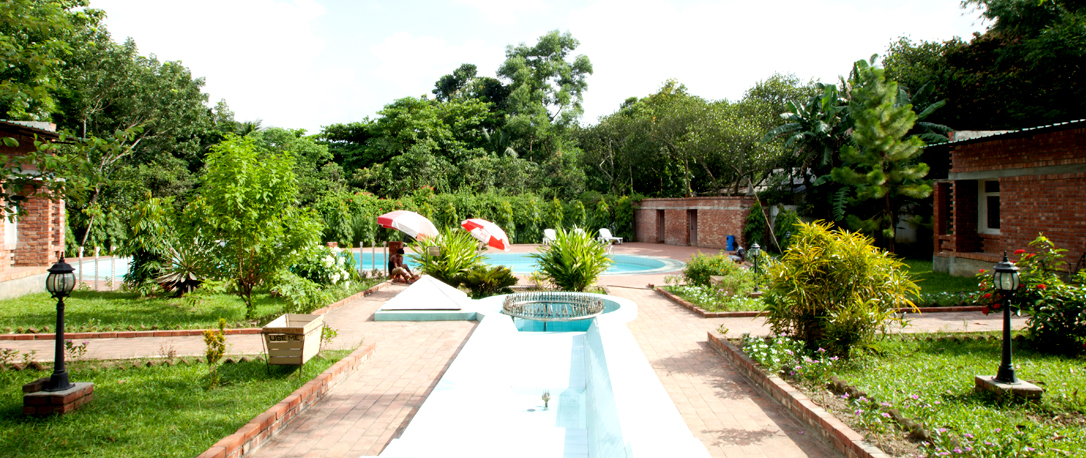 Rangamati Waterfront Resort extraordinary amenities include:
1. 53 luxurious guest rooms from 550 to over 2100 sq feet
2. Six Duplex Pool View Platinum Cottage
3. Seven Individual Luxurious Fountain View Cottage
4. Nine Twin Sharing Lake View Rooms.
5. Welcome Drinks.
6. Decorative lobby.
7. Concierge deck.
8. Panoramic views of the Swimming Pool.
9. Inviting, cozy, luxurious decor throughout.
10. Business center With Wi-Fi Facilities.
11. 5,200 square feet of Conference Hall.
12. Two newly built side by side Meeting Rooms next to dining Restaurant.
13. Baggage and Equipment storage.
14. Professional, helpful, courteous and attentive staff.
In-Room Highlights
1. In Room Refregaroter.
2. Balconies in many rooms.
3. Sun block curtains.
4. In-room dining service available.
5. Dining Area.
6. Luxurious Living Room.
7. Attached Bathroom.
8. Gorgeous Tiles Floor.
Resort Highlights
1. 2. 9. 17. 1. Power outage is a common problem in our country. To meet this, sufficient power generating sets are there to meet the continuous requirement of power.
2. For security, Ansars with arms are there round the clock.
3. Private Live BBQ arrangement.
4. Terraced, landscaped patio area with beautiful flowing fountains in the summer.
5. There is an amphitheatre with sufficient capacity to watch basket ball games as well as musical soiree.
6. Moonlight heaven lit by the moon.
7. For guests who would like to walk, pathways are there all-around the lake.
8. Four Different sizes of Field.
9. Games & Sports: Beside Basket, Badminton, Football and Cricket, there is separate arrangement for table tennis. Billiard will be added soon. PAT A PAT Golf is in the process of implementation.
10. If you wish to angle, in the lake, you only ask for it.
11. Children's Playground.
12. Three storied newly built State of the art Restaurant.
13. Private Dining Area.
14. Eye Catching One Conference Hall with 600 Sitting Capacities.
15. For busy people, WIFI is there at site.
16. Long lake Connected with Bamboo and Rope Hanging Bridge.
17. Picnic in the Jungle.
18. Drivers Accommodations.
19. Guest Parking Area.
20. 3D Cinema Hall.
Additional Highlights
1. Bangabundhu Safari Park only 40 minutes away from the Resort.
2. Numerous accesses to the resort from Capital City Dhaka [Only 45 k.m North of the City]